The construction

Comfort flex
The superior shock-absorbing properties and the perfect flexibility of the shoe will add light and easy comfort to your day.
Comfort Flex shoes offer a dynamic footbed that adapts to the anatomy of your feet from heel to toe. The special design ensures that the stress on muscles, joints, bones and ligaments is relieved when walking.
As a result, legs and feet are relieved from strain, alleviating tiredness and pain particularly when travelling.
The ultra-light styles offer genuine comfort.
The lightness of the outsole and the high-tech materials ensure a reduced overall weight.

Featherlight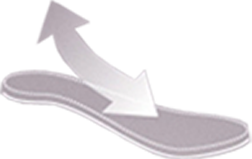 Removable footbed
The anatomy of a woman's foot with maximum comfort in mind. What is more, they can be easily replaced by customised insoles where required.
Women's shoes featuring an exchangeable footbed deliver a perfect fit no matter what. This functional component has been specially adapted to the foot.